Bookie
Software
Ultimate sportsbook software! Choose the plan that's best for you
Do you have 100 players or more? Call and negotiate your rate!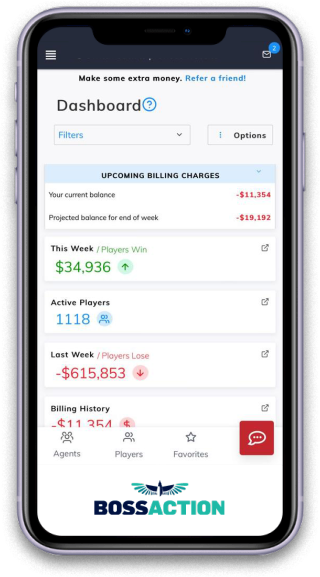 Profit More With BossAction Software
We design our sportsbook software to help you make more money. Because we have our own software developers, we can add platforms that boost action by 15% or more. We can also create online solutions like our agent payment system that allows you to collect and pay players online. Your players can wager on more than eighty sports leagues, in-game and props.
Less stress on you, more action, and more sports offerings leads to more profit. ONLY PAY FOR ACTIVE PLAYERS!
Be The PPH Sportsbook Boss...
Powerful Boss Bookie Software
Use the most progressive sportsbook software in the industry. Our PPH software leads to more action, which means more profit.
Premium Platforms Encourage More Action
Proprietary BossAction Online Payment System
Pay and get paid like a boss. Use the Agent Payment Solution to make payments and collect online. Like you, players can deposit via various methods.
Move Your Players Fast and Easy
It takes no effort to transfer your players. We'll do the work for you. Almost immediately after account activation, your players can log on and play.
Make More Money With BossAction Premium Platforms
More action means more money. Add BossAction Premium Platforms and increase action by 15% or more. Players can access game trackers and video streams through Live+ in-game.
Premium Live Dealer adds blackjack tables, which means your players must never wait for an open seat. Premium Casino provides the latest 3D games. Through Premium Props, players can wager on sports performance, quarter lines, halftime lines, and other options. The more time players spend on your platforms, the more plays they make, and the more you profit. Some of our agents have seen a 25% or more rise in action after adding prime platforms.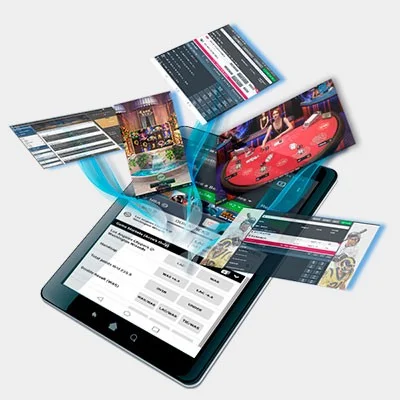 Pay and Collect Online
Make life easy and profit more. Easily pay your bills with a variety of methods. The BossAction Agent Payment Solution (APS) allows both you and players to make online deposits. You can also collect from players through the same system. The system accepts various banking methods, including cryptocurrencies like bitcoin and ether, debit and credit cards, eCheck, and MoneyGram.
No more in-person meeting with players. No more frantic phone calls and texts asking you to add money into player accounts. When players can add money when they want, they play more, providing you more action. The more plays they make, the more money you make. Get Started Today!
Customer Service that Works for You
Profit more with better customer service.  As the boss of your sportsbook, you want to make sure the company you work with has the same goal as you do, to make more money. Our customer service team knows you're the boss, which is why our reps have the attitude that they're working for you. 
Our service reps are sportsbook industry experts as well as BossAction software masters. No matter what question you have, your team of industry professionals can answer it. Not only that but we can help you create a white label sportsbook that almost runs itself.